Home » 2013 » May » 02
'US admits that Bangladesh factory supplied US firms'
The United States has admitted that US clothing companies were being supplied by the illegally constructed Bangladeshi garment factory complex whose collapse killed hundreds of people. "We understand that businesses operating in this building appear to have links to numerous companies in the US and Europe," AFP quoted State Department spokesman Patrick Ventrell as saying [...]
Israeli settlers attack Palestinian homes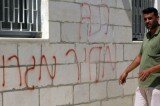 Israeli settlers have attacked Palestinian homes, smashing their windows and painting price tag graffiti on their walls. Masked Israeli settlers launched the assault on Palestinians' houses in the occupied West Bank overnight on Wednesday, Xinhua reported. Sarit Michaeli, the spokesperson for the human rights group B'Tselem, condemned the acts of violence, saying it could worsen [...]
Guantanamo lawyer found dead…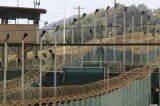 A US lawmaker who represented detainees at the US infamous Guantanamo Bay prison in Cuba has been found dead in an apparent suicide, report says. The body of Andy Hart was discovered last week, an investigative blog, Truthout, said in a report on Wednesday. The report said the news of the lawyer's death came [...]
VIDEO: Sharia Scare Shakes UK: 'Law of the land go to hell'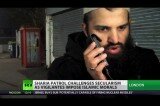 So-called Muslim patrols are again active in London – with vigilantes trying to impose Islamic ideals on the local population. And while arrests may have tempered the activists' zeal, they continue to promote their views – some of which are quite radical. But moderate Muslim leaders fear their actions could discredit the whole community, [...]
VIDEO:Dollar tyranny kills masses around the world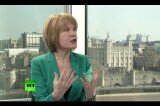 Max Keiser and Stacy Herbert discuss paper addiction and the toothless, pimply faced paper pushers hooked on an ever-increasing fix of debt. There is no paper these guys won't push, no debt they won't inject into the veins of the economy and these addicts refuse to sober up despite the overwhelming evidence found in [...]
VIDEO:Blood for Oil: Fuel frenzy could spark war as Kurds seek secession from Iraq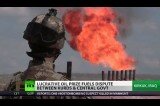 As sectarian tensions rising across Iraq, Kurdish leaders pushing for independence despite strong objection from central government. The conflict's been further fueled by the massive oil deposits in the country's North which both sides wish to claim and exploit.
VIDEO:Big Bro Broken: Lavish surveillance shattered by Boston bombings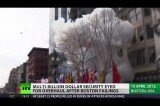 Many US government officials are calling for tougher national security measures, in the wake of the deadly Boston bombings. But more than a decade of multi-billion-dollar surveillance, at the expense of civil liberties, has failed to prevent terror at home. Experts say Washington's security strategy has already cost far more than it's worth.
Stuck in Nowhere: UK-rejected refugees in limbo as return home dangerous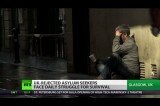 Those fleeing their countries to seek a safer life in the UK can often end up with neither a job, nor a place to live. Tens of thousands of rejected asylum seekers are struggling to make ends meet, while being unable to go back home. RT's Polly Boiko has the story of one such [...]
3 killed in New York state shooting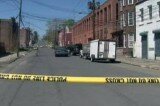 Three people have been killed during a triple homicide shooting in the US city of Newburgh – dubbed the 'most pathetic place in the state of New York'. Authorities reported that one woman and two men were among the casualties in an early morning shooting on Wednesday. Two of the victims were shot to death [...]
War… on rise among Syria militants
Confrontations are growing among foreign-backed militant groups fighting to topple the government of Syrian President Bashar al-Assad. Ideological differences have been emerging in the highly divided militants, who now turn their guns at their comrades over small personal disputes. The rise in violent and at times fatal skirmishes highlight the intense contest for power in [...]
Page 1 of 7
1
23Next ›Last »